What an amazing retreat you have created here at Treetop. It was all we expected and more. The outside bath was a genius move. You have thought of all the small details to make a wonderful stay.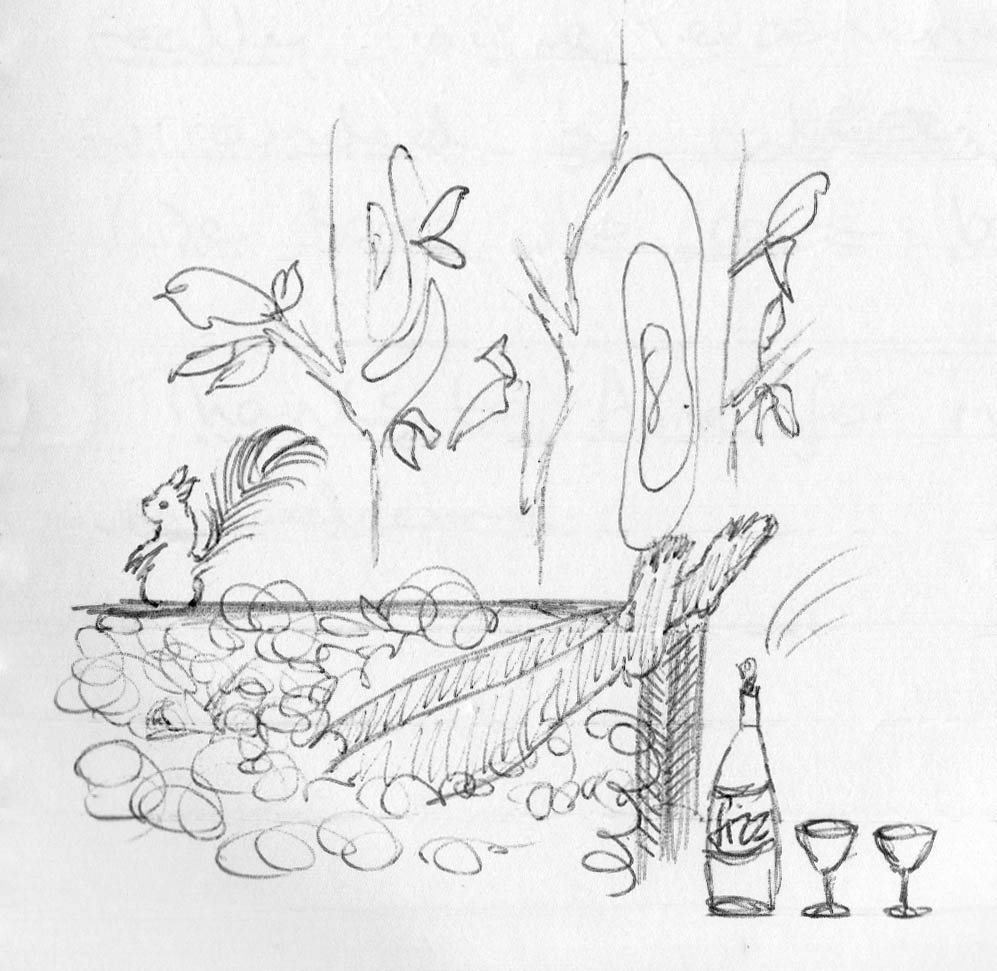 Z & G, October 2020
Everything was perfect and the little personal touches made it even more special. We had such a peaceful break away from reality and could sit for hours listening to nature outside and watching the little red squirrel who came to visit often. The outdoor bath is an experience also. This place is a hidden gem and our only complaint is we didn't book longer.
We booked for 3 nights but ended up staying 4! We have loved watching the birds, including the woodpecker who visited everyday as well as the squirrels. The bath has been such a treat – especially with a wee celebratory glass of prosecco! So many lovely details in the lodge from the beautiful bed to the reclining sofa. Along with the lovely welcome pack we have felt very pampered. Already looking forward to our return visit and more 'nature therapy', especially the forest bathing!
Huge thanks for all of your care and hospitality, as well as the love and thoughtfulness that has so clearly gone into building the lodge.
E & T, October 2020
The peace and tranquillity that Treetop had to offer was exactly what we were looking for. We spent so much time just watching the birds on the feeders and were lucky enough to receive a daily visit from a little red squirrel who was so entertaining to watch.
It was amazing to come back and enjoy a relaxing bath under the trees and stars. The attention to detail of Treetop Lodge is remarkable and Anne has thought of absolutely everything which shows in the comfort and luxurious stay I'm sure all guests will have at Treetop. We only had three nights booked but as soon as we arrived, we added an extra night as we fell in love with the place.
S & K, October 2020
It has everything you need to be comfortable, with the outdoor bath an extra bonus. Amazing to see Red Squirrels closeup from the comfort of the sofa.
T & B, September 2020
We have had a wonderful week of peace and quiet. We were fortunate to explore the beaches and the forests.
Keep an eye out for the red squirrel in the evening time – who isn't too shy to make an appearance whilst the bath is in use!!!
The Lodge has everything that we needed… and more, including the bikes which were used for a quick cycle into Kirkcudbright for breakfast. Everything has been wonderful 🙂
E & A, September 2020
Our stay has been better than we could have imagined! What an absolute beaut of a place!
Every single thing has been really thought out in making this place so wonderful to stay at!
Anne, thanks for really going to all the extra effort to make our first Wedding Anniversary so memorable ♥
The outdoor bath is so glorious to soak in after days out exploring. We really enjoyed riding into town on the bikes – an added bonus we didn't expect.
We have a feeling this place will be booked up once word gets around!
K & P September 2020
First visitors to Treetop Lodge, we've had a wonderful stay – from exploring mountains to visiting bookshops, this cute retreat in the woods has been the perfect hideaway and the outdoor bath has been a blissful way to end our day.
We loved our stay, it was so peaceful and had everything and more for our stay. We wish Anne every success with the Lodge and hope to return some day.
R & M, September 2020